Butler MIU4 Entrepreneurship Academy to Host Demo Day May 14th at SRU
May 6, 2019
On behalf of the graduating students of the Butler MIU4 Entrepreneurship Academy, we would like to invite you to our final event of the year – Demo Day. This event will be held Tuesday evening, May 14th, 5pm – 7pm, at the Slippery Rock University Alumni House (parking at the Alumni House lot). See the invitation attached.
The students of this 5th cohort of the EAcademy program have had a great year of building businesses, meeting and connecting with other young entrepreneurs and business people, seeing various businesses, and learning how to create opportunities. At Demo Day, each student will present their business to you, as well as have their product on display to share or sell.
We invite you all to attend and celebrate their experience, give feedback about their businesses, and connect with these rising stars. Refreshments will be provided.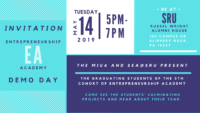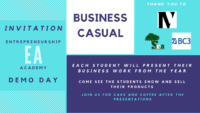 Please RSVP by clicking here.
We look forward to seeing you there and celebrating these amazing young people!
Best regards,
Christen Dunn

Instructor - Entrepreneurial Coach

MIU4 Entrepreneurship Academy @BC3

Mobile: (760)208-5553